1
3 Fils
Dubai, UAE
The Best Restaurant in Middle East & North Africa 2022, sponsored by S.Pellegrino and Acqua Panna
The Best Restaurant in the UAE
Humble home-grown harbourside restaurant sits atop MENA's culinary world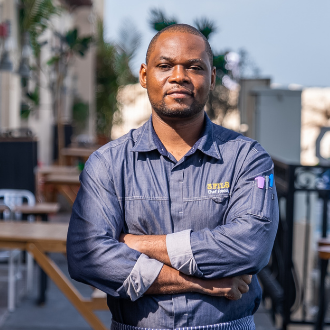 On the Pass
Shun Shiroma and Freddy Kazadi (pictured)
Pastry Chef
Carmen Rueda Hernández
What makes it special: Its individuality. 3 Fils takes any preconceptions you might have about quality Dubai restaurants and dismantles them. This is an independently owned, unflashy, unlicensed, super-casual no-reservations joint that is relatively accessibly priced. It also happens to serve standout delicious food, delivered by a dressed-down, highly attentive and amenable service team. Not only has it become hugely popular as a result, it also tops the inaugural list of Middle East & North Africa's 50 Best Restaurants.
A brief history: The restaurant – whose name references a local phrase that equates to 'two cents' – was founded in late 2016 by two Emirati restaurateurs and chef Akmal Anuar, who had previously headed up the acclaimed Iggy's in his home city of Singapore. Its harbour location in an old fishermen's building, along with the adjacent waterside terrace, has direct links to the UAE's pear-fishing origins. While Anuar has moved on to a new project, he leaves a legacy that focuses on high-quality ingredients, now continued by head chef Shun Shiroma and sous chef Freddy Kazadi.
On the menu: Premium Asian fare heavily influenced by Japan. The à la carte-only menu is relatively compact and unfussy, taking in a stellar sushi section, a variety of wagyu temptations and signature dishes such as kampachi tataki (yellowtail tuna with tamara and yuzu), spicy beef tartare with pickled lime, Fremantle octopus with gremolata and 72-hour lamb ribs. Luxury ingredients such as truffle, caviar and sea urchin also crop up to add extra pizazz, but on the whole dishes are relatively straightforward, well sourced and perfectly executed.
Leave space for dessert: In 2019, 3 Fils opened Brix, a dedicated dessert bar alongside the restaurant itself, headed up by Spanish pastry chef Carmen Rueda Hernández. Brix delivers sweet dishes for the main restaurant, including an accurately named African Powerhouse chocolate tart, but one can also book in for a dedicated globe-trotting five-course dessert tasting menu. It's a multi-sensory experience that draws on Rueda's time working at the likes of El Bulli, The Fat Duck and 2am Dessert Bar, brought to bear with imagination, artistry and no little skill.

Watch the video for a look inside 3 Fils: 

Contact