Header: Clare Smyth and her signature Potato and Roe (all images: Anne Emmanuelle Thion)

The newly crowned elit® Vodka World's Best Female Chef plans to use her title as a platform to help more women achieve success in the restaurant industry.
Before she reaches her 40th birthday in September, British chef Clare Smyth will have achieved more than most – an MBE for services to hospitality, an undisputed place as the first and only woman to run a three-Michelin-star restaurant in the UK and a host of accolades including the 2018 World's Best Female Chef Award. But despite the fact that she remains perhaps the most successful chef of her gender in Britain, she is insistent that her job knows no difference in sex – and that the gender balance must change.
"We still have a real lack of women recognised at the top of the industry and we have to do something about that – we're not going to change it by ignoring it," says Smyth, who opened her debut restaurant Core by Clare Smyth in London last year. "Sometimes you have to go over the top by recognising women and giving them a platform so that we can really start to change things and recorrect the balance. There are lots of young women coming through in top kitchens across the globe and for me this award is for them."
For Smyth, that doesn't mean hiring a kitchen full of females for the sake of it. In fact, of the 14 chefs in her kitchen, only three are women, including Smyth herself, because she says "they just don't come through". She mentors women at sous chef level because she acknowledges that "women need a bit more encouragement to put themselves forward. We must encourage them to come through and also to stand out a little bit."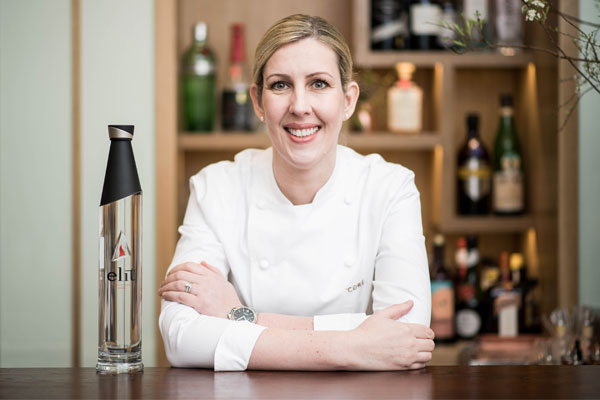 Behind the bar at Core by Clare Smyth

Achieving success, for Smyth, has always been about hard graft. From leaving her home in County Antrim, Northern Ireland, at the age of 16 and working her way up through kitchens in England and France to eventually becoming chef-patron at Restaurant Gordon Ramsay in 2012, she has followed a conventional route to success in the restaurant industry.
"I'm your traditional boring chef – there's no cool story about it. I've worked under some of the greatest chefs of the world, I spent 15 years of my life in three-Michelin-starred restaurants and I trained to be the best I could be. It didn't just happen, it wasn't magic, I put in the work," she says. "That relates to the Best Female Chef Award – I stood shoulder to shoulder with men in the toughest kitchens in the world and excelled and loved it. So to separate [male from female chefs] for me is strange, but we don't see enough women coming through at the top and we need to do something about it."
While Smyth acknowledges it may be a while before she achieves gender parity in her kitchen, she does have a 50-50 split on her front of house staff and is helping both men and women to deal with the sexual harassment that is rife in the industry. Smyth (literally) broke down the wall between the kitchen and dining room in the 1861-built building that houses Core, and says that now she can see customers at the table while she works, she witnesses harassment with her own eyes. She and Core's restaurant director Rob Rose are running workshops to give all her staff the tools to be able to handle difficult situations instead of tolerating abuse.
"There are lots of issues the hospitality industry needs to address and I'm very supportive of those girls," Smyth says of her service team. "I make sure I look after them, address all the issues and support them because they will change things. Give them five years and they'll push the boundary and break it apart and change the industry. We're close to it. We've just got to keep going a little bit more."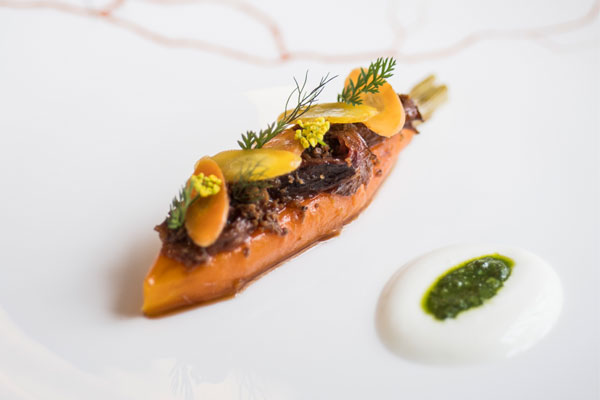 Lamb Carrot at Core by Clare Smyth

Smyth is also pushing boundaries with customers' perceptions of fine dining. Mindful of the fact that she has often felt uncomfortable in "pretentious" restaurants where perhaps there were words on the menu that she couldn't pronounce, she has created in Core a place where she hopes diners of all ages, backgrounds and nationalities will feel comfortable. She lists ingredients simply on her menus and serves dishes such as the "humble" Potato and Roe, where a single potato is the focus of the dish and herring and trout roe replace the more expensive and less textured caviar.
"Over the years, it has had a bad rap and no one wants to use the term 'fine dining'," says Smyth. "I've always disagreed with that. But as someone who went into the hospitality industry at 16 and has read everything there is to read and studied and worked in the best restaurants in the globe, I don't like going to a restaurant and not feeling comfortable. We went in the other direction, knocking down the wall of the kitchen. We didn't want barriers."
At Core, Smyth uses the French techniques she learned with Gordon Ramsay and with Alain Ducasse at Le Louis XV in Monte Carlo but with an emphasis on British produce and the employment of local industry to furnish the restaurant. Core's walls are adorned with British art; the tables made with wood from Northern Ireland; and the bone china by a 300-year-old UK company that still makes everything by hand even though the industry in Britain is almost lost.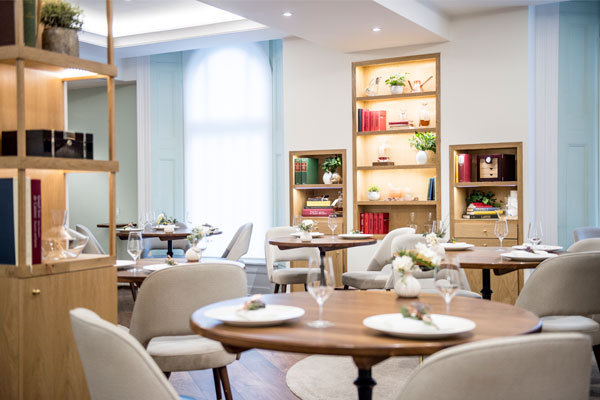 The dining room at Core by Clare Smyth

She believes as much in food sustainability as in sustainability of human resources and is actively investing in her team with weekly training sessions where all staff are given educational projects allowing them to study and later present new skills or learnings to the team.
"I believe in a sustainable environment, not just environmentally and economically but also in the cheffing industry, where we have to keep educating people," she says. "Offering senior positions to people who are not ready for those roles is not the answer, so we don't give them that. Instead we train them."
Eventually, Smyth hopes that through education and mentoring, there will be no need for gender-specific awards such as the one she now accepts from The World's 50 Best Restaurants.
"I would love to see very soon that we don't need gender-specific awards because women will have recognition and an equal platform and there will be a balance in the industry where we can see plenty of women on the 50 Best list and there won't be a need for that award," she says. "That will be 'job done'."


Watch the video interview with Clare Smyth: 

Core by Clare Smyth
92 Kensington Park Road
London W11 2PN
+44 20 3937 5086

Clare Smyth will receive her elit Vodka World's Best Female Chef Award at The World's 50 Best Restaurants 2018 awards ceremony in Bilbao, Spain, on Tuesday 19th June. Watch the livestream via our Facebook page and follow 50 Best on Instagram, Twitter and YouTube for more videos, photos and interviews.