8
LPM Dubai
Dubai, UAE
Provençal perfection ideal for a celebratory occasion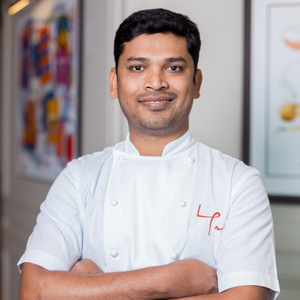 On the Pass
Ravikanth Avaduta
Still on top of its game: LPM is a grande dame of the Dubai culinary scene, having first opened its doors over a decade ago. The fact that it is still one of the hardest spots to reserve a table is testament to its consistency – you're guaranteed quality ingredients, tried-and-tested recipes, staff that make you feel like a regular even if you're not and great people-watching.
A culinary trip to the Côte d'Azur: LPM attracts a crowd that tends to rattle off thei favourites, made to be shared with the table, without needing to look at the menu. Top picks include a much copied but never bettered lentil salad, fresh burrata cheese with basil and tomatoes, garlicky escargot and grilled lamb chops. The food is unfussy, straddling the Italian-French border, and utterly delicious.
Insider secret: Pre-reserve one of their whole roast chickens with foie gras – prior notice is needed to cook it to perfection. Mopping up the juices with the crusty baguette baked fresh and served hot from the oven is one of life's greatest culinary pleasures.
Room with a view: The addition of a covered conservatory has added yet another dimension to the white, light-filled room, with pops of colour thanks to bright artwork adorning the walls. If all the tables are full, propping up the bar is no hardship as you're offered the full menu, excellent chat from the bar team and an elevated seat for a bird's-eye view of the room.
Toasting the future: Creative, story-telling mixology is also on the menu thanks to Global Bar Manager Tibor Krascsenics, who took inspiration from French artist Jean Cocteau to magic up 12 new cocktails during the pandemic. Subsequently launched in the restaurant's sister venues internationally, the drinks take you on a creative journey through the writer's life and from absinthe fountains to levitating glasses and notes spritzed with Chanel No. 5, the optics live up to the taste.
Contact