In the 15 years since she first donned chef's whites, Pía León has been instrumental in building the restaurants that have become synonymous with Peru's stellar culinary reputation. First with Central and then with her own restaurant, Kjolle, the award-winning Peruvian cook is turning experience into wisdom and redefining success in line with her own priorities
Even as she reaches the heights of the culinary profession as winner of The World's Best Female Chef Award 2021, sponsored by Nude Glass, Pía León retains the ingenuity and fervour of a cook on their first day on the pass. Indeed, the first few lines of her CV look no different than those of thousands of other aspiring chefs: a graduate of Le Cordon Bleu in her native city, Lima, she started out working in the Peruvian capital's traditional restaurants.
León's turning point came when she heard that a local chef was opening a promising new restaurant in Lima. Intrigued, she arranged an interview and landed a job at the fledging Central in 2009 to work the cold station. Within five years, she had gone from being the only female cook in the kitchen to its head chef – the right hand of chef-owner Virgilio Martínez.
Unique in its philosophy to research and serve Peru's outstanding biodiversity on the plate, Central quickly grew into one of the world's most celebrated restaurants. In 2014, León was at Martínez's side when Central won the title of The Best Restaurant in Latin America for the first time, an honour it retained for the next two years, along with regular appearances in the upper echelons of The World's 50 Best Restaurants lists.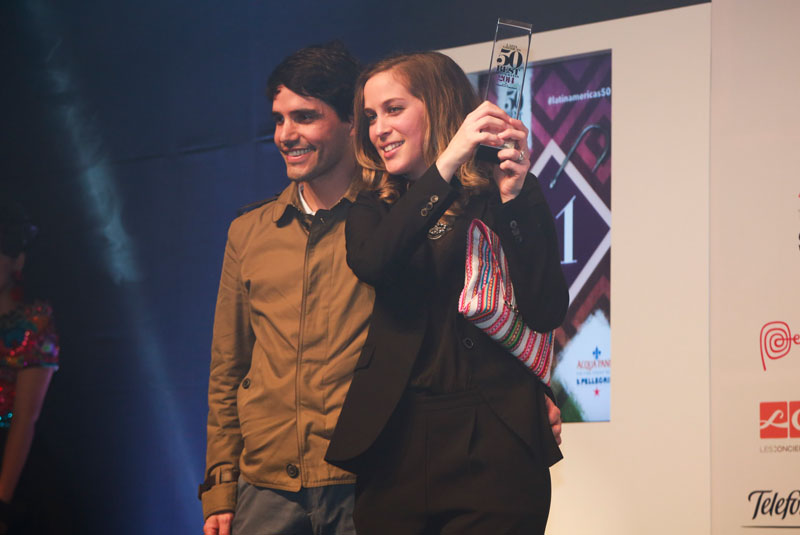 León lifts Central's trophy at Latin America's 50 Best Restaurants 2014

In 2018, the chef took her rightful place in the spotlight with the opening of her own restaurant, Kjolle, also in Lima. But now, with The World's Best Female Chef 2021 accolade – which she will officially receive in Antwerp, Flanders, at the awards ceremony on 5th October – she is stepping onto the global stage. "I'm happy – after so much work, it's the perfect moment, the perfect platform to demonstrate that although it can be difficult at times, if you have the will and you know what you want, things do happen, in their own time and at the right moment," she says.
Over her 10-year tenure at Central, León had a chance to realise that although she had high ambitions, the success she sought had to be on her own terms. "I don't want to have a rhythm of life where I have to travel four or five times a month," she states. "That doesn't mean that I'm not clear about what I want to achieve with Kjolle or the other projects we have. I have my limits, but I'm very clear about how far I want to go, what I want to do and how I want to divide my time."
As she works across Central, Kjolle, cocktail bar Mayo – all housed in a building in Lima called Casa Tupac – as well as destination restaurant Mil near Cusco in the Peruvian Andes, the chef still puts a singular focus on what she calls the "human aspect" of working in restaurants. "The most important thing for me is the people around you, those who accompany you in your life mission and your goals," she states emphatically.
"Central has always been my home, my family. It's in my heart," shares León. "I was there from day one, I was there for the awards, for those radical changes when it went from á la carte to tasting menu. But the key moment that generated a feeling of family in the team was the fact that I started from the bottom, therefore I belonged."

Get to know León in the video:


Finding balance
As a young cook full of quiet determination, León threw herself into her work at Central from the very beginning. "At that time, for me it was all about work. And when I got together with [now-husband] Virgilio, forget about it – we didn't have children so we travelled every month, it was work 24/7," she recalls.
"It was a decision that I made. I enjoyed it, but it also cost me; I suffered and I cried, but I don't regret it. Today we have much more balanced, healthier lives. Times have changed and it's good to recognise that certain decisions you made in the past may not have been so necessary, or shouldn't have been so drastic," she says.
At Casa Tupac, León and Martínez seek to create a different model for their restaurants' 80-strong combined team. "For me, it's important that people come to work happy, that they feel that they work in a place where they don't only learn, but can also make their voices heard, where they are respected and where they can build a family," she says.
Finding a balance between her passions and priorities took several years and progressive attempts. In 2016, she and Martínez welcomed their son, Cristóbal. In the second half of 2018, they moved Central from its original location in the Lima neighbourhood of Miraflores to a building in Barranco, which also houses their family home. A month later, León opened her own restaurant, Kjolle.
"I've always been cautious. People were always asking me 'why don't you open your own place?' when I was at Central, and I kept saying 'let's wait, I'm not ready, it's not my time yet'," she says. "In the end, we opened at the right time. Cristóbal was already two years old, and on a personal level, I was prepared."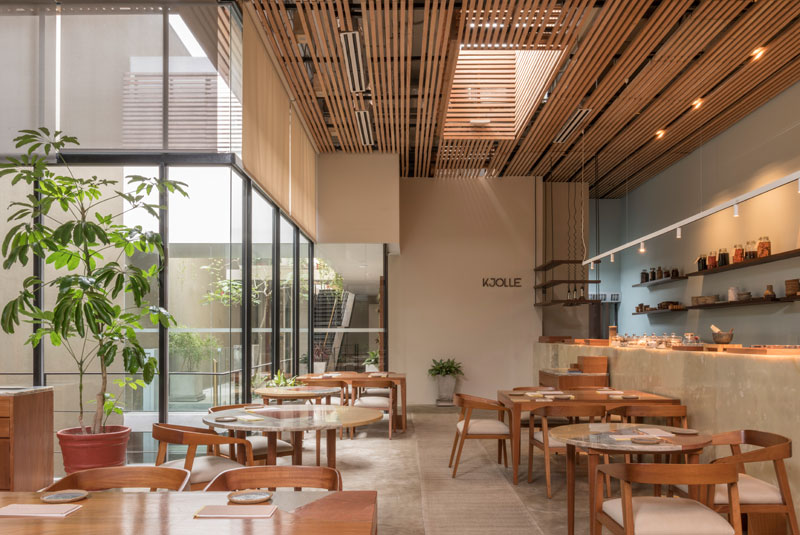 Inside Kjolle (image: Ken Motohasi)

León's decision to bide her time paid off, and she was recognised with the Latin America's Best Female Chef accolade in 2018 before Kjolle received the Highest New Entry Award when it debuted at No.21 on the Latin America's 50 Best Restaurants 2019 list.
What was the key to her success? "Everyone knows that I'm very competitive and I'm happy to admit it, I've always been competitive and tough," she says. "Over the years the intensity has dropped a bit, but if I know I'm good at something, I go for it.
"I always tell my team that they have to be one step ahead. Not in a hypocritical way or acting badly towards the rest of the team, but you have to be active, attentive and alert. If you want that job, do it in the right way; be honest, but get there. I've always worked like that, trying to be a little bit ahead," she explains.
When she was voted as The World's Best Female Chef 2021, sponsored by Nude Glass, the chef followed her instinct, which told her to take the opportunity. "It's a controversial award," she says. "But it's an opportunity, a platform to make visible the work you've been doing. This year it's my work, but also that of the chefs who will win it after me and those who won it before me.
"Hopefully there will come a time when it's no longer needed, and there are those who will ask why there isn't a prize for men," she continues. "But let's be honest, there are more male chefs – that's the truth. If we look at it in a positive way, it also generates motivation for women and it encourages them, makes them dare to try.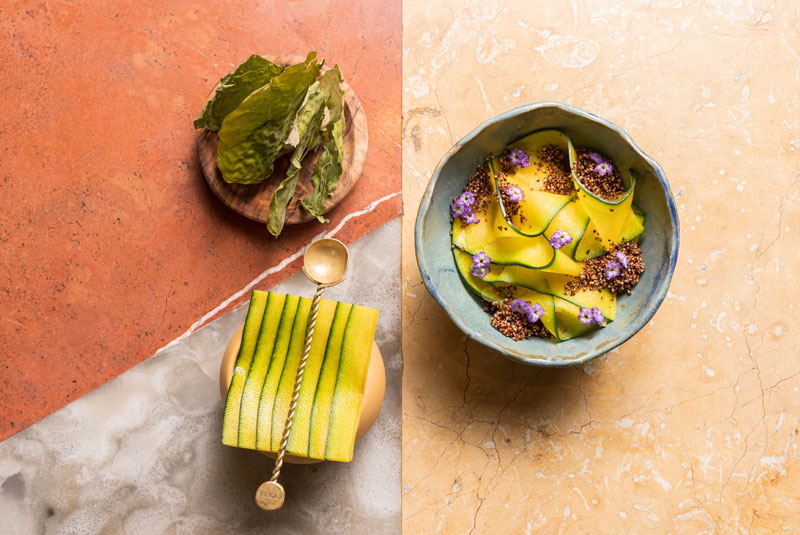 León's dish Pumpkin and Crustaceans

"Man or woman, the passion you feel – if you are sure that you really want to be a chef – is carried in your heart and it's impossible to remove, obscure or tarnish. That always comes out in the end: the result is visible."
Putting people first
León often refers to the members of her team as her family – stressing that this isn't just a word for her, but a holistic attitude to how she runs her restaurants. "We share the same values, the same ideas and thoughts. We have managed to build that trust that is essential for all of us to be able to achieve a mission together, not only professionally, but also in life," she adds.
There is Malena, Martínez's sister, who runs Mater Iniciativa, the research arm that studies new species from Peru's biodiversity to be integrated into the restaurants' dishes. "Her work is incredible, and not only that, but she's very thoughtful and calm. I'm always asking her for help, she gives me peace of mind," says the chef.
There is Mariana, who has been in charge of the restaurants' administration for nearly eight years. There are Alan and Diego, two other long-standing members of the team who look after the restaurants' hospitality and drinks menus respectively.
Then, there are those who came up through the ranks and are now about to take León and Martínez's projects abroad. Nicanor, previously Central's chef de cuisine, is heading to Moscow in Russia to open a new restaurant, while Santiago, Martínez's right hand, is moving to Tokyo, Japan to lead the couple's latest opening. And there's Barnabé, who León describes as "my right and left hand at Kjolle".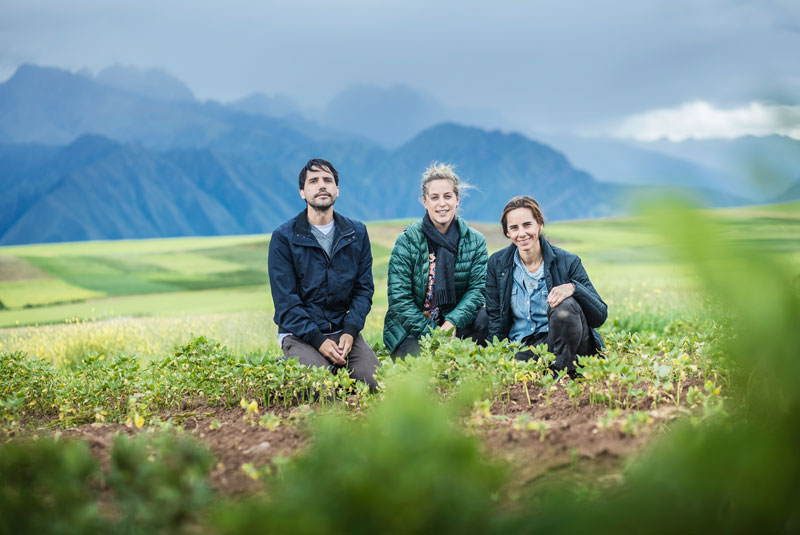 Virgilio Martínez, Pía León and Malena Martínez in the Andes

"What I am most proud of is the group of people that we have managed to form at Casa Tupac, including myself," she says. "Together, we managed to create something unique, something special, and also something that makes sense.
"I am also proud of having achieved a balance in my life, of being able to be everywhere, at the restaurants and at home. I'm happy that I have managed to make Cristóbal feel part of all this, that it doesn't seem strange to him and that he doesn't have a hatred or jealousy towards the restaurants.
"I am also proud to continue showing the whole world what we have here, why we are unique, why we are so proud of where we come from and our country of Peru."
Coming into her own
With the launch of Kjolle in 2018, León took the chance to create a restaurant and a menu that fully reflect her personality. She stresses how Kjolle mixes products that come from Peru's full range of ecosystems – fruits from the Amazon jungle, tubers from the Andes mountains, as well as fish and seafood from the country's coasts, with dishes tweaked seasonally depending on what's available.
"We play with colours a lot, and at the same time our style is simple, there are no more than four ingredients in each of our dishes," she says. "But it's also very well thought out. You won't only eat well, there is also the idea that you will learn and take something away with you. It's a very friendly experience and that was something essential – I wanted it to be a restaurant where you don't feel nervous."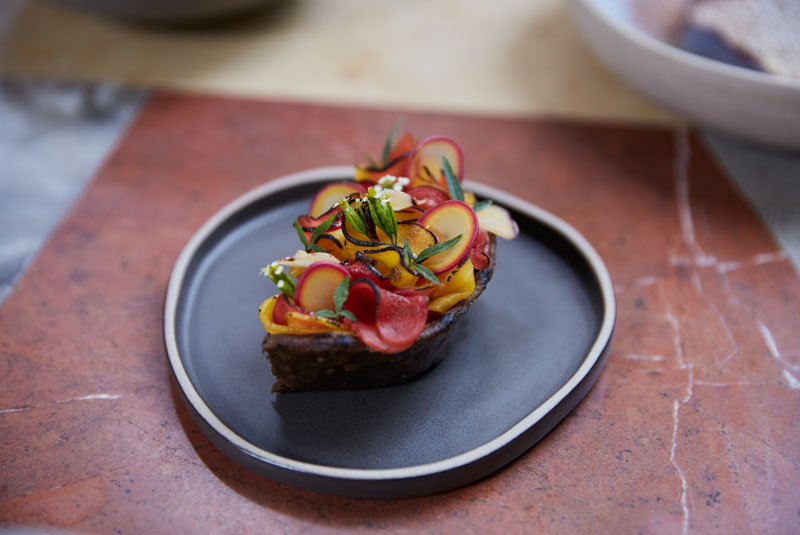 Tubers, a dish made with oca, olluco and Andean potatoes, has been on Kjolle's menu since it opened

For the chef, an essential part of the process of finding her own voice was introspection. "Like any profession, cooking and the restaurant world can be difficult and you have to make sacrifices," she reflects. "At some point in your career, you have to ask yourself what it is you really want. I think this is more common now, and it happened to me especially during the lockdown. Where do you want to go, who do you want to accompany you on this path, is it worth it? And then you have to be honest with yourself."
What would be León's own answer to these tough questions?
"It would be easy to say that I just want an easy life and to be happy, but that would be a lie. Life is not easy, there will always be trials and disappointments, so you can't just tell yourself 'I want to be happy with my family'," she replies.
"I've reached a point where I know how to handle myself in life and I know how to react to different situations. My priorities are here in Peru with the restaurants we have at Casa Tupac; not only Kjolle, but also Central and Mil. And of course, my family comes first and will always come first: Cristóbal and Virgilio."
León will receive the award in Antwerp, Flanders, on Tuesday 5th October at the awards ceremony for The World's 50 Best Restaurants 2021, sponsored by S.Pellegrino & Acqua Panna.

To be the first to hear about the latest news and announcements from The World's 50 Best Restaurants, join the community on Instagram, Facebook, Twitter and YouTube.