16
Reif Kushiyaki
Dubai, UAE
Casual yet flavoursome treats at Dubai celebrity chef's eponymous eatery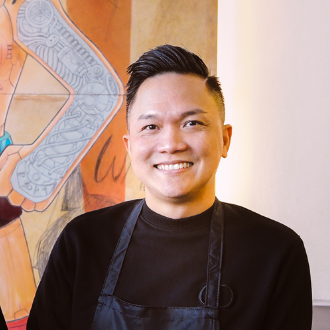 On the Pass
Reif Othman
Pastry Chef
Adhi Pramono
Home-grown haunt: Chef and founder Reif Othman finally put his own name to a restaurant and the city's foodies have reacted with glee. The well-known Singaporean, who has called Dubai home for over a decade, forged his reputation at spots like Zuma, Play and Billionaire Mansion but now has artistic license to experiment in his own relaxed space.
What is kushiyaki? Reif puts a spotlight on the Japanese snack-like street food skewers cooked over the robata grill, with crispy chicken skin featuring alongside teriyaki-slathered chicken thighs and Angus beef strip-loin with truffle mayo.
But that's just for starters: From an 18-hour slow cooked silky ramen to sushi rolls and sashimi, multi-mushroom claypot and the Wagyu Katsu Sando (a Japanese-style sandwich) that put Reif on the map, there's plenty more to opt for. Plus there are brunch options and vegetarians are fully catered to with inventive plates packed with flavour.
World domination: Fans have ensured it's so full since its opening that the unlicensed restaurant has spilled over and taken in an adjoining unit at its Dar Wasl Mall location. And, with a recent opening in Cairo and an imminent one in Riyadh, the team have made it known that a global footprint is on the horizon.
Sign up for The Experience: Take one of the coveted stools by the kitchen service bar and let Othman take you on a personal culinary journey at his chef's table. Expect regularly evolving menus and improvisation as the charismatic restaurateur shows off his skill during the multi-course degustation feast.
Contact