28
Tawlet Mar Mikhael
Beirut, Lebanon
Farmers market food founded by Beirut's iconic restaurateur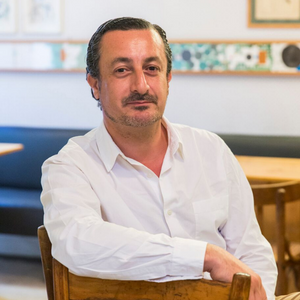 On the Pass
Kamal Mouzawak and cooks from Lebanon
What's on offer? Rotating weekly, the menu at Tawlet could include any variety of dishes from all corners of Lebanon, such as tabbouleh from Kfardlekous (a village in the north) or fattoush – a salad of mixed greens, radish and tomato – from Ammiq in the west. Each dish is served on a large platter for guests to help themselves.
Serving the community: Dozens of women from villages across Lebanon take turns designing menus that showcase their local dishes. For many of the team, Tawlet offered the chance to move to the city, support their families and to show their pride in Lebanese food.
The open kitchen: Without physical barriers between the diners and the chefs, Tawlet is a space that encourages conversation – about the origins of the dishes, the significance of the food and the traditions from local communities. Much of the restaurant's profits are dedicated to supporting local farmers and cooks, and the furniture and decor have been carefully selected from the region's artists and designers. 
Icon for the ages: Hailed as Lebanon's most high-profile culinary activist, Tawlet's creator and restaurateur, Kamal Mouzawak, has been awarded the inaugural Foodics Icon Award for Middle East & North Africa's 50 Best Restaurants 2022.
Any other ventures? Mouzawak owns three Tawlets across Lebanon – in Beirut, Ammiq and Deir El Qamar. Breaking new ground, 2022 has already seen the opening of the first restaurant in Europe, Tawlet Paris, which Mouzawak hopes will raise awareness of Lebanese cuisine across the world.
Contact