43
White Robata
Kuwait City, Kuwait
The Best Restaurant in Kuwait 2022
An animated space ushering in Kuwait's contemporary culinary wave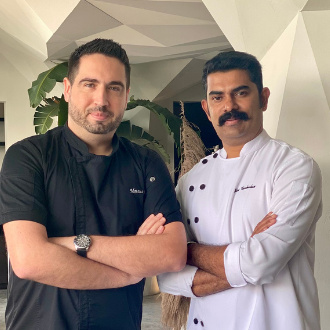 On the Pass
Mateus Coelho and Jibin Thankachan
Pastry Chef
Jumanah Malallah
Culture club: Located within the Jaber Al Ahmad Cultural Center, White Robata is a Japanese concept inspired by international flavours. The dishes are prepared in an open kitchen, allowing diners to watch as skilled chefs combine traditional techniques with unexpected ingredients to create inventive signatures.
Tech set: Heavily inspired by Japanese robot anime culture of the 1980s and 90's, the interiors are a stimulating and whimsical mix of saturated colours and contrasting textures. Adding another layer of interest for anime aficionados, the space is accented with 3D models and graphic depictions of renowned characters of the era.
Describe the ambiance: The unlicensed restaurant has a choice of indoor and outdoor seating. The terrace is a favourite for diners wanting to take in the views of the dancing fountain and make the most of the cooler weather in the winter months.
What's on the menu? White Robata (short for robatayaki, which translates as 'fireside cooking' in Japanese) specialises in dishes cooked over fire. The varied menu consists of several sections with an array of larger dishes meant for sharing, including a six-hour braised short rib finished on the grill. For lighter options, the raw counter offers a contemporary take on traditional Japanese cuisine including the playful spicy tuna wanton taco and the flank steak frites aburi nigiri with purple potato floss.
Contact