48
Butcher & Still
Abu Dhabi, UAE
Travel back in time for classy American fare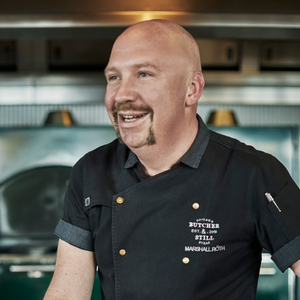 On the Pass
Marshall Allen Röth
Pastry Chef
Rasika Weerasinghe
Time travel: It's time to get transported to 1920s Chicago, where you'll forget that you're actually on Al Maryah Island – until you start admiring the views across the water towards central Abu Dhabi. With leather seating, warm yellow lighting, wooden floors and design details that play into the theme, Butcher & Still offers a taste of Prohibition-era Americas.
Steakhouse menu: As expected of a steakhouse, there are prime cuts of American beef that will make your mouth water, but there's also plenty of seafood and chicken to tuck into. Some signature dishes include the likes of the tomahawk chop, the 99% lump crab cake and the cherry pie à la mode. There's also an open kitchen where diners can view the chefs expertly prepare their meal.
Who's the chef? The head chef of Butcher & Still is Marshall Röth, who has more than 20 years of culinary experience across the United States. He's been keen to stay true to the restaurant concept and sources his meats from a boutique supplier in the states.
Prohibition vibes: Keeping in line with the theme of the restaurant, the cocktails are reminiscent of the Prohibition era, with a secret dining room and bar awaiting those who crave privacy – further adding to the speakeasy theme. It's located in a barrel vault and the design has been inspired by Chicago gangster Al Capone's Cadillac.
Contact