49
+61
Marrakech, Morocco
Bright and breezy eats with Mediterranean flair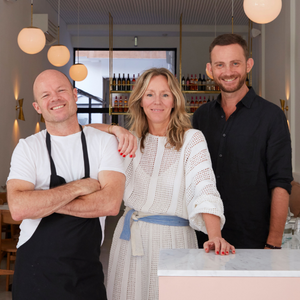 On the Pass
Andrew Cibej
Pastry Chef
Abdelghani el Haik
What's the vibe? When three industry friends got together to bring a dash of Sydney-style, casual dining to the Red City's fashionable Gueliz neighbourhood, they not only created a great place to eat, but also a gathering place for locals, resident expats and regular visitors. On any given day, chances are if you have a connection to Marrakech, you'll run into someone you know. And in these troubling times it's reassuring to know there's a place you can go to nourish both stomach and soul.
Lunch or dinner? Both! Co-founders Cassandra Karinsky and Sebastian de Gzell commissioned the moss green banquettes, brass sconces and blush pink marble table from local artisans, creating a sun-splashed space brimming with joie de vivre by day, and candle-lit intimacy at night. Head chef Andrew Cibej made a permanent move from Sydney to head up the kitchen, serving up joyous platefuls of food inspired by the diverse kitchens of the Mediterranean rim, many made for sharing.
Style of food? Cibej is all about simple, perfectly executed pleasures. A zingy sardine escabeche. A platter of roast vegetables with sunflower seeds and salsa verde to nibble on with a bittersweet Bronte Blush – gin, Campari, Cointreau and lemon. Wine from a solid, yet accessibly priced wine list to pair with an impossibly crunchy chicken schnitzel with green beans, pickled onions and preserved lemons, and a decadent finale in the shape of his now legendary espresso pannacotta.
Last word: +61 is a place where pristine ingredients and precise cooking elevate simple food into something wonderful, and artful service delivers a level of comfort that can only come about when the people involved truly care.
Contact