7
Fakhreldin
Amman, Jordan
The Best Restaurant in Jordan 2022
Jordanian hospitality meets traditional Lebanese food at this historic villa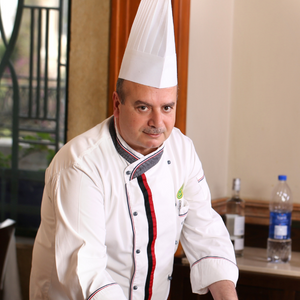 A brief history: The restaurant is located in one of Amman's oldest residential neighbourhoods. Established in 1997, Fakhreldin is housed in the former family home of Prime Minister Fawzi Al Mulki. The villa was restored by renowned Jordanian architect Ammar Khammash, known for his preservationist approach: each room reflects the original spirit of the home and a lot of the original fixtures remain untouched.
What makes it special? Besides the food, Fakhreldin is known for its hospitality and personalised service. Diners are treated like family: the service style is heavily based on the spirit of Jordanian generosity and is truly tailored to each individual customer. Regulars don't even need to order as the waitstaff remember each diner's preferences, from their mezze order and bread preference, to how they take their coffee at the end of the meal.
What's the vibe? Traditional and elegant, this bustling restaurant is a favourite for family celebrations, business dinners and is a mandatory stop for any guests from out of town. Enjoy your meal in one of the light-filled rooms in the winter, but make sure to book your table in the lush Levantine garden in the summer to enjoy your meal under the stars.
What to order: As well as fresh mezzes and signature grilled meats, standout dishes include a variety of raw meats, namely Fakhreldin's signature Kibbeh Nayeh, minced raw lamb with bulgur served alongside a selection of fresh toppings and relishes. End your meal with a cup of cardamom coffee and enjoy the seasonal fruit platter – or, if you're in the mood for something decadent, standout desserts are the Osmalieh and Halawet Jibn.
Contact