39
Fusions by Tala
Manama, Bahrain
Middle East & North Africa's Best Female Chef 2022
Contemporary reinventions of Bahraini comfort food from award-winning talent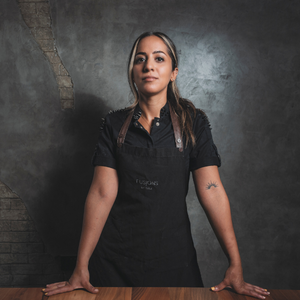 The lowdown: Since relaunching in early 2020 – and despite the intermittent nature of the hospitality sector since – Fusions by Tala has become one of the most exciting and ambitious restaurants in the region. It is also the gastronomic star of Manama's renowned Gulf Hotel Bahrain, attracting curious diners from across the Middle East and beyond.
Who's behind it? The clue is in the name: this is the creation of the newly crowned MENA's Best Female Chef, Tala Bashmi. A native Bahraini who grew up scouring the island's souks with her father in search of the best local ingredients, Bashmi spent time training in Europe before returning to her homeland and making a name for herself competing in Top Chef Middle East. She redesigned the restaurant with an open kitchen as its focus, in tune with her philosophy of delivering a full gastronomic performance for guests.
On the menu: Bashmi's dishes often take inspiration from classic Bahraini recipes such as ghoozi (lamb served over aromatic rice) and bamia (a beef and okra stew). But her super-contemporary versions upend tradition, packing flavour hits into more intense bites enhanced by dramatic plating styles. The result is a dining experience that simultaneously evokes nostalgia and embraces innovation. The current five-course tasting menu is soon to be extended to eight courses, though an à la carte option remains available to guests in the 45-cover dining room, which is abetted by a spectacular terrace lounge for pre- and post-dinner drinks.
Bonus point: Bashmi pursued a professional soccer career, even moving to the US on a sports scholarship, until injury forced her to turn her attention elsewhere and she started cooking more seriously. The rest is history.
Contact