40
Milgo & Milbar
Tel Aviv, Israel
A slice of Europe in the centre of Tel Aviv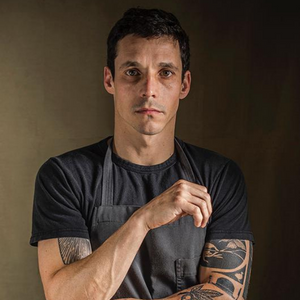 Tell us a story: Founded in 2013 in one of Tel Aviv's main corners on Rothschild Avenue, this restaurant – a popular venue in town – transformed over time into a casual fine dining experience with original dishes.
Who's in the kitchen? Chef Moti Titman, one of Israel's most promising young chefs (37). Titman studied cooking in Strasbourg and specialized in baking in New York, working in several Israeli chef-led restaurants before joining Milgo & Milbar in 2015. Titman's food is influenced from all of his life's stops, with flavours combining together in a Tel-Avivian, contemporary and precise kitchen.
The atmosphere: This is a fine dining restaurant, with white tablecloths and waiters in buttoned shirts and aprons. But it is not a quiet restaurant. It is always buzzing with something happening, music and the sound of the bell alerting of another ready course. If you choose to sit around the open bar, you can follow the whole process of dish making in the open kitchen, until it finally arrives on you plate.
On the menu: Courses are based on fresh seasonal vegetables, fish, seafood and meat. One of the most popular starters is a burned corn croquette with parmesan and habanero sauce. Other dishes on the menu are sea fish tartar with kohlrabi, cucumber, fresh ginger, spicy almonds and jalapeno cream or duck breast in tamarind sauce, fresh blueberries, black-eyed peas and mash potatoes.
Contact