9
George & John
Tel Aviv, Israel
Meticulous eastern Mediterranean dishes inspired by Tel Aviv's local produce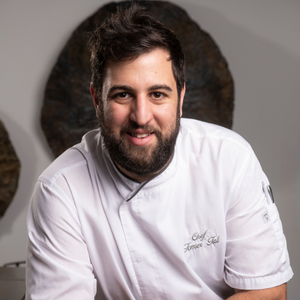 Atlantic meets Mediterranean: In his restaurant, chef Tomer Tal combines flavours and recipes from his Jewish-Moroccan heritage with seasonal raw products from Tel Aviv's Carmel Market and fresh seafood from adjacent Jaffa Port. Each beautifully plated dish tells its own story, showing an aspect of the local eastern Mediterranean cuisine. 
150 years of history: Located in the heart of the historic, 19th-century American colony of Jaffa, George & John is named after its founders. The two brothers opened here almost 150 years ago in one of the country's first modern hotels that would later host Jaffa's first wine bar and outdoor grill garden – all of which are now significant sources of inspiration for Chef Tal and his menu.
An ode to charcoal: Several kinds of charcoal-based grills and smokers are used in the kitchen: the hand-chopped kebab is prepared in a small, traditional Middle Eastern classic grill; while wild local cabbage is smoked in a clay pot smoker, set in George & John's garden.
Surf and turf 2.0: One of the restaurant's signature dishes is the Jaffa-style octopus carpaccio – thin slices of octopus served on fluffy hallah bread with Tal's homemade arissa spread, roasted eggplants and reduced yoghurt sauce. It's cooked with hyssop, thyme, sage and shatta chillies and in between the slices lurks a surprising flavour – tiny cubes of roasted lamb fat.
Contact