46
La Closerie
Tunis, Tunisia
The Best Restaurant in Tunisia 2022
Fashionable playground of the city's cool crowd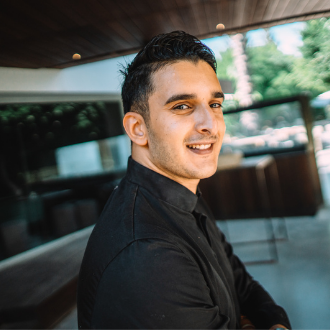 On the Pass
Bechir Laabidi
What's it about? Tipping its cap to the era of the resto-club, La Closerie occupies a vast, contemporary villa in the well-heeled seaside neighbourhood of La Marsa. It has live music and DJs most nights of the week, soaring palm trees, sprawling terraces and two pools joined by a walkway bridge. So far so LA, and there's nothing wrong in having somewhere to go for some good old-fashioned, glamorous fun. But it's the top flight, Italian cooking with a nod to the South of France that has Tunis foodies flocking.
How's the food? It's solid. From the zucchini noodles lavished with pesto for the no carb brigade, to the crunchy breaded squid with house-cut tartar sauce to share around, there's lots to love. Heaping plates of spaghetti with artichokes generously shaved with bottarga and beautifully made vitello tonnato are stand outs, as is the Marseille style bouillabaisse with an expertly made rouille, and their signature gilded 'Gatsby' chocolate cake.
Who goes? If there's a place to see and be seen in Tunis, this is it. Fashionistas and business people, Tunisian celebs and media, expats and tourists all cheerfully swigging cocktails and catching up on the latest gossip.
Worth noting: Don't take it too seriously. Whether you're gathering for a sunny Saturday brunch after a stroll on the beach, or planning on dancing long into the night after dinner, dress to the nines, kick up your hells and revel in La Closerie's air of unapologetic hedonism.
Contact