45
Izakaya
Cairo, Egypt
A vibrant combination of Japanese precision and Peruvian flavour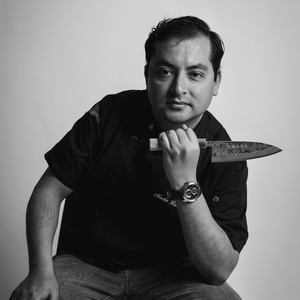 On the Pass
Martin Rodriguez
What's the inspiration? Located in the heart of Egypt's capital city, Izakaya is Cairo's first Nikkei restaurant, providing a fusion of Japanese and Peruvian cuisines. The restaurant takes its name from the Japanese word referring to a casual venue for snacks and drinks.
On the menu: Try a dish 'from the garden', such as the tomato ceviche, served with red onion pickles, yuzu, tabasco and red chilli, or the Alaskan king crab legs with Japanese butter from the charcoal grill. With the wafu fillet you're in for a treat: prime tenderloin steak, wok-fried portobellos and wafu sauce.
About the chef: Growing up with his grandmother on the family farm, chef Martin Rodriguez developed a passion for food and the culinary arts from a young age. Uniting his native Peruvian cuisine with Japanese technique, Rodriguez worked in Nikkei restaurants such as Hanzo before travelling to Cairo and becoming the executive chef at Izakaya.
Shaken or stirred? Izakaya's signature cocktails are designed to perfectly complement the food: the Midori No Kokonattsu, of vodka, coconut cream, melon and yuzu is silky smooth, while the Kuraudo – a concoction of citrus-infused vodka, mixed berries, tea and yuzu – offers a refreshing sip between one sashimi morsel and the next.
Contact