31
Mirai
Manama, Bahrain
The Best Restaurant in Bahrain 2022
Long-standing local favourite serving modern cuisine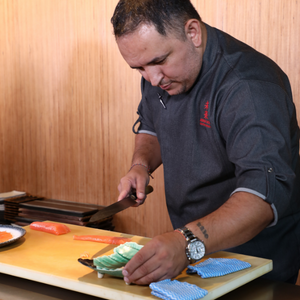 On the Pass
Junior Gomez
Pastry Chef
Mohammed Iman
Tell me about it: Open since 2002, Mirai is largely considered the go-to sushi spot on the island. Perfect for people-watching, this buzzing and contemporary concept serves up a mix of authentic and inventive Japanese-inspired dishes.
Mix it up: Not content to rest on their laurels, Mirai's culinary team regularly create new dishes that are eye-catching and innovative takes on Japanese street food or reimagined classics. Popular dishes include tuna pizza, the shrimp popcorn bao and the chef's signature maki featuring a combination of tuna, salmon skin, eel and shredded spicy crab.
Take in the view: The refurbished bar and lounge area upstairs offers views of the vibrant Adliya district, which hosts to a cluster of bars and restaurants and pedestrianised streets. The bar is also home to some of Bahrain's finest mixologists with a beverage programme that matches the inventiveness of the food menu.
In the family: Mirai's sister restaurant, M by Mirai, is located in the Al Aali Mall in Bahrain's bustling Seef District. A minimal space featuring a central Robata grill surrounded by counter seating, the concept offers simple but forward-thinking cuisine in a laid-back setting.
Contact