30
Marble
Riyadh, Saudi Arabia
Meat done well attracts in-the-know carnivores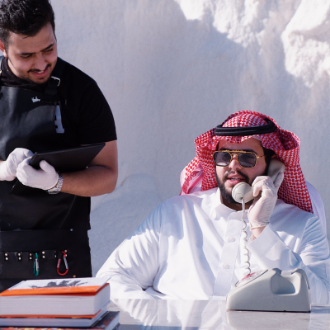 On the Pass
Abdulrahman Alsowailem
Mastery through simplicity: When it started out, Marble would only open four days a week for a few hours a day. It had a succinct menu of four main meat items and a side of fries, but each one was done and served to perfection – so everyone just kept coming back. Not only that, but whenever Marble announced a pop-up dining experience anywhere, you could trust that its loyal patrons would follow.
A carnivore's heaven: The Marble burger is happiness tucked in a bun. The patty off the grill is always done right, promising that you'll bite into a juicy, smoky, well-seasoned burger. The brisket, ribs and ribeye are mainstays too, smoked in-house for at least eight hours. This results in a flavourful, succulent ensemble that has placed Marble at the top of every carnivore's list.
Who's the grill master? Elusive chef-owner Abdulrahman Alsowailem, whose love for top cuts, connoisseur knowledge of butchery and meat craftsmanship – paired with in-depth insight into the locale's palate – has allowed him to create a restaurant that excites and comforts, always staying a step ahead in its offerings.
Seasonal shake-ups: Marble keeps the culinary enthusiasm high by creating seasonal dishes, from exclusive prime rib dinners to Saudi lamb specialty rice plates, only on limited offer.
Contact