3
OCD Restaurant
Tel Aviv, Israel
The Best Restaurant in Israel 2022
An extraordinary rollercoaster of seasonal cuisine with a touch of Israeli flavour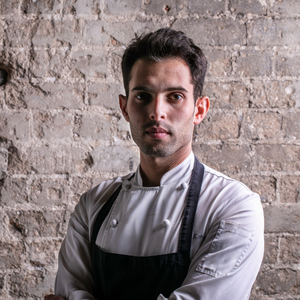 On the Pass
Raz Rahav
Pastry Chef
Or Amir
What's it all about? A 19-course degustation meal is served for only 19 diners at a time on a bar surrounding the kitchen. Each course is prepared and meticulously plated in front of the guests by chef Raz Rahav and his team. OCD's menu is recreated four times a year, in line with the seasons, and each meal revolves around a different theme and story, always including local raw materials from artisan producers. All dishes mix eastern Mediterranean and haute-cuisine techniques with recipes and flavours from pan-Jewish and Israeli culinary heritage.
Homemade is best: OCD is exclusively open for dinner (except one Friday noon service). Throughout the day, young Chef Rahav and his team use its space to experiment and prepare in-house the components of each dish – from chickpea hummus miso to olive oil marmalade.
Israeli fusion extravaganza: Rahav combines Israeli-inspired dishes and raw materials in OCD's menu, giving them an unexpected interpretation. Don't miss the Israeli sturgeon black caviar combined with cauliflower pancakes, Ashkenazi dumplings, kasha buckwheat puffs or Rahav's very own amba – Jewish-Iraqi mango pickle paste.
Zero-waste and sustainability: Many of OCD's dishes are based on products that would otherwise be thrown away: asparagus stalks' fibrous bottoms, for example, are aged in sugar and served as dessert.
Other ventures: Rahav plans to open Tirza, a Tel Avivian wine bar, as well as an 'afuy', a Jaffa-based bakery.
Contact