4
Trèsind Studio
Dubai, UAE
Art of Hospitality Award 2022
Theatre and flavour are hand in glove at MENA's finest temple of Indian cuisine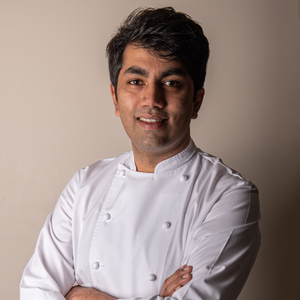 On the Pass
Himanshu Saini
Pastry Chef
Rahul Rana
What's the story? Trèsind Studio is annexed to fine dining Indian restaurant Trèsind, which opened in 2014. Think of Studio as an elevated version of its neighbour, with fewer covers and a more experimental style of food alongside a tasting-menu-only concept – it opened in 2018 and has been considered the epitome of Indian dining in Dubai ever since.
On the menu: Seriously advanced Indian food that stays true to its roots, taken from many different regions across the sub-continent. Young Indian chef Himanshu Saini is considered one of the hottest talents in the world of Indian cookery and is renowned for his theatrical creations and interactive dishes, which get diners involved with almost every course.
What dish should I look out for? Lamb and black pepper: a tandoor-cooked lamb chop that has been marinated in spiced yoghurt, served in a heavily spiced masala gravy. It's counterbalanced with a mint-heavy yoghurt-filled tuille that shows the nuance at play with top-drawer Indian cookery.
Prepare for theatre: Without giving any spoilers, be ready for multiple changes of pace. Across the 16 courses, several are served in different areas of the restaurant, while some are delivered as the restaurant is plunged into darkness.
Stellar service: Trèsind Studio is the inaugural winner of the Art of Hospitality Award. In part, it's due to the seamless integration of the theatrical elements without feeling overblown, but primarily it is thanks to restaurant manager Vipin Pawar and his team of brilliantly briefed staff. They are choreographed to deliver each course with precision, with full knowledge of the ingredients and cooking techniques at play. Enjoyed the lamb chop? Inform the team and you might find another delivered to your table at no extra cost.
After dinner: An excellent cocktail bar serves both Trèsind Studio and Trèsind, and takes its whisky-focused drinks seriously. Order the house-smoked Old Fashioned.
Contact