37
Porterhouse
Riyadh, Saudi Arabia
Upscale Saudi steakhouse that aims to be a cut above the rest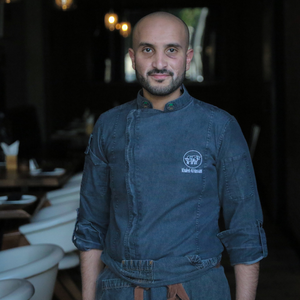 On the Pass
Khaled AlHussaini
Changing the game: When chef and restaurateur Khaled AlHussaini opened Porterhouse in 2016, he was the first to introduce Riyadh to the concept of an elevated, modern Saudi steakhouse. AlHussaini, a software engineering graduate who pioneered a collection of restaurants in Saudi Arabia, put a twist on classics, instigating a bold approach to flavours that pleases the local palate while changing perceptions of steakhouse dining. 
What's on the grill? Porterhouse has become known for its cuts – all dry aged in-house – and wagyu steaks grilled over wood and charcoal. With their signature sides, sauces and toppings (such as seared foie gras, blue cheese butter and onion marmalade), guests can configure their plate to their liking and experiment with pairings.  
Fortune favours the bold: The menu at Porterhouse inspires diners to be adventurous. Lunches featuring their Montreal-style cured meat board (house cured and smoked Wagyu brisket served with truffled mustard), often matched with their Porterhouse salad, are a local go-to. The appetizers are known crowd-pleasers, with some still rare to find anywhere else in Riyadh: the roasted veal bone marrow and escargot are menu finds and must-tries.
Beyond the meat: While Porterhouse is ultimately a modern steakhouse, it draws in diverse palates. Their red snapper ceviche, Ahi tuna poke bowl and wild mushroom tarts are but a few of the dishes here that ensure no one's experience is an afterthought.
Contact