36
Cut by Wolfgang Puck
Doha, Qatar
The Best Restaurant in Qatar 2022
Steak and service that's a cut above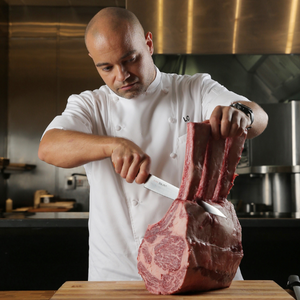 Puck by name: Arguably the world's first 'celebrity chef' and second-most famous Austrian-American behind one-time Governor Schwarzenegger, Wolfgang Puck has made a name for himself across the world by rolling out simply excellent steakhouses, often set in the most exclusive neighbourhoods of global cosmopolitan capitals. This base in Doha is one of the most recent to open, as it did with the launch of the glitzy Mondrian hotel in 2018.
Plum spots: The best seats to grab at lunch are the high-back armchairs standing sentry to the marble bar. They afford excellent views of the Doha skyline and are equally well positioned as the perfect vantage point for people-watching across the room.
Essential orders: This is a steakhouse in the purest sense. To get a true taste of the worldly Cut outlook and its wood-fired approach, a tasting flight of steak is the perfect option. It comes with 85g a piece of USDA corn-fed 28-day aged prime, Australian wagyu rib and Japanese wagyu fillet. Although, for a true taste of Puck's Austrian heritage, the Wienerschnitzel is flawless: flattened veal fillet, breadcrumbed and shallow fried, served with traditional marinated cucumbers and potato salad.
Prime service: Puck's restaurants are characterised by excellent service, from Miami to Singapore, though the Doha outpost is a leading light. A huge battalion of front-of-house operators are well-drilled and clearly committed to providing an above-par guest experience.
Contact