5
Sachi
Cairo, Egypt
The Best Restaurant in Egypt 2022
Modern Mediterranean fusion in a relaxed atmosphere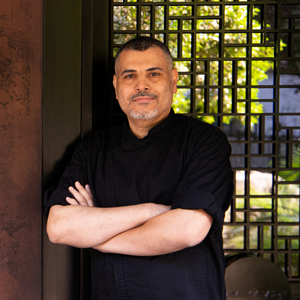 On the Pass
Ashour Dessouky
What is it like? Sachi offers an escape from the noise of the city with its serene decor and elegant dining room. The room is replete with comfy chairs, while the low-hanging bulbs and sleek black tables add to the intimate and glamorous atmosphere.
Signature dishes: Small bites and appetisers such as tuna tartare with avocado and orange ponzu or octopus carpaccio head up the menu, sampling flavours from the Mediterranean coast. Chef Ashour Desouki has accrued a number of familiar favourites during his tenure at Sachi. Guests travel from afar to try the Chateaubriand steak for two: a South African beef tenderloin served with roasted vegetables and your choice between green peppercorn sauce or shallot vinaigrette.
And to drink? A towering rack in the restaurant's dining room showcases Sachi's impressive selection of drinks, while the bar can whip up a refreshing cocktail. Opt for the apple martini or thyme gimlet as the perfect accompaniment to an evening meal.
The founder: A pioneer in the industry, restaurateur Ayman Baky has over twenty years' experience in hospitality. His own brand, Baky Hospitality Group, was launched in 2013 and operates venues across Egypt. 
Other ventures: Founded in 2014 in Cairo's Heliopolis, Sachi represented the beginning of Baky's gastronomic empire. The restaurant has since been joined by two sister branches: Sachi by the Sea on Egypt's northern coast and Sachi Park St in the Giza governorate.
Contact