50
Tokyo
Riyadh, Saudi Arabia
An evolving gastronomic legacy rooted in Japanese cuisine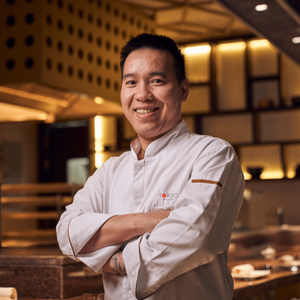 How it started: When it opened in October of 1985, Tokyo became one of the first authentic Japanese restaurants in Saudi Arabia. Its original outpost, with its shoji sliding doors and then-head chef and owner Hagemu Nishumuri, inspired an atmosphere reminiscent of sushi dens.
How it's going: The last three decades have favoured Tokyo, which has evolved with the times under the direction of Saudi-owned F&B company FoodsGate. They rebranded the restaurant in 2017, ushering in a new era and introducing a contemporary Asian dining experience, while staying rooted in Japanese cuisine. In 2021, the restaurant unveiled its new modish interiors, giving ode to its history while showing it's still able to innovate and be a formidable force in the dining scene.
Old favourites, modern tricks: The culinary brigade in Tokyo, led by Chef Vince (Doan Nghiem Huynh), curates a menu of Japanese local favourites and trendy dishes to satisfy varying palates. A bestseller standing the test of time is Tokyo's bento, consisting of their signature sashimi, tempura, seaweed salad, tamago, teriyaki collection and korokke – plus the complimentary miso soup that ties everything together into a neat box of flavourful comfort. Consistent table features are the miso-glazed black cod, beef tataki and gyozas, and one would be amiss not to try their fresh and innovative sushi rolls.
Designer mocktails: Whether as a pairing to their dishes or as standalone drinks to accompany after-dinner conversations, Tokyo's concoctions keep things fresh. Reach for the peach-perfect Wabi cocktail, or try the plum sake if you're feeling experimental.
Contact