18
Trèsind
Dubai, UAE
Progressive fine-dining celebrating the flavours of India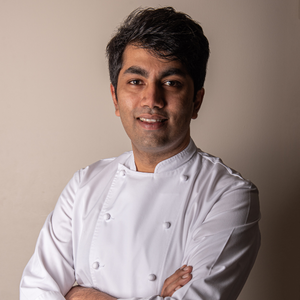 On the Pass
Himanshu Saini
Pastry Chef
Rahul Rana
What to expect: Located at the voco Dubai hotel, Trèsind is an unassuming space which delivers style and substance in one swoop. Its dishes pay tribute to traditional Indian food with a contemporary twist.
Explore the menu: Think of any signature Indian dish and you'll find it here. What is different are the combinations of flavours: the à la carte offers beef short ribs in goan curry with mashed potatoes, and cedar wood–smoked tandoori chicken with burnt pineapple carpaccio. If you're not sure what to eat, try the tasting menu and keep your camera at the ready. You'll get to try a range of the dishes on offer while getting great value for money. The main course is always a showstopper – featuring dishes such as prawn curry, lamb and coconut stew and chicken chettinad served with paratha.
Meet the chef: Now commanding a cult following in the city and beyond, chef Himanshu Saini's inventive ideas are translated to the plate in the restaurant. With every dish treated as a work of art, Saini has put his stamp not only on this mothership but also on the brand's second restaurant Carnival by Trèsind, while also fully unleashing his creativity at the intimate Trèsind Studio.
Service with a smile: It's not just the culinary team that you'll praise. The front-of-house team plays a role in the performance by serving dishes tableside with flair, while explaining each nuance in detail.
Contact