19
Kazoku
Cairo, Egypt
Minimalist and contemporary Japanese cuisine in the heart of Cairo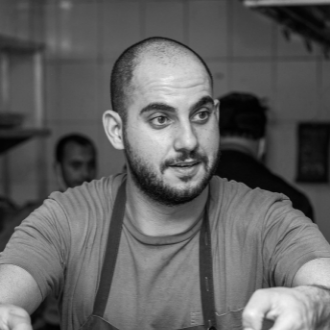 On the Pass
Tarek Alameddine
What's the concept? Kazoku, meaning family, serves up authentic dishes inspired by the Japanese culinary heritage. Founded by acclaimed entrepreneur, Ayman Baky, the restaurant was created to resemble 'the people'. True to its name, the decor is warm and the team welcoming.
Sushi supreme: Chef Tarek Alameddine creates an array of meticulous mains including the Chilean sea bass and fried ebi maki. Try the gyoza – either beef, black cod, shrimp or lobster – which are golden and crunchy. For those with a sweet tooth, the dessert bento box, offering chocolate and caramel fondants, semifreddo and matcha brûlée, is an unmissable treat.
The setting: Kazoku's interior is sleek and sophisticated. The 100-seat restaurant is located in one of Cairo's most popular compounds, Swan Lake. Diners can enjoy a meal inside or on the terrace, surrounded by the waving Egyptian palms.
Who's behind it? At the helm of Kazoku's kitchen is Alameddine, who joined fresh from two years at The World's Best Restaurant 2021, Noma, in Copenhagen, Denmark. Beverage Director Walid Merhi joins him behind the bar, crafting imaginative new cocktails and putting his own twist on familiar favourites.
A gastronomic empire: Kazoku is owned by pioneering restaurateur Ayman Baky and stands alongside the popular Sachi and Reif Kushiyaki under the Baky Hospitality umbrella.
Contact