27
13C Bar in the Back
Amman, Jordan
Interactive food and wine pairing experience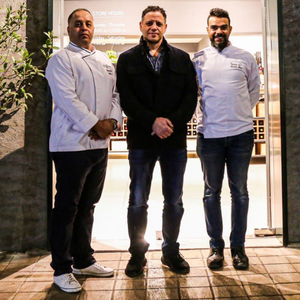 On the Pass
Alaaeddin Ahmad
Pastry Chef
Adnan Essa
The owners: A sommelier, a winemaker and a wine trader joined forces with a restaurateur to create 13C Bar in the Back, which offers a 'highly interactive food and wine pairing experience' to complement their wine shop and tasting room. They believe that wine is best enjoyed with good food and friends, so they created an environment that is welcoming, fun and conducive to wine tasting.
The concept: Inspired by the Mediterranean with hints of the Levant, the menu offers small "Izakaya-style" plates. Standout dishes include grape molasses eggplant, blade steak with Za'atar bearnaise and risotto al vino. Patrons can purchase a bottle from the wine shop and enjoy it with their meal or they can opt for some of the flights or pairings on the menu.
Parings and more: The menu was created with wines, spirits and cocktails in mind and allows diners to create and curate their own food and wine pairing experience. It is based on wine flavour profiles, with titles such as 'Fresh and Crisp' for salads, 'Supple and Lively' for heavier appetizers and 'Bold and Meaty' for meats. Each section includes a list of suggested wine pairings. The goal is to make the wine and dine experience fun, educational and unintimidating.
What's the vibe? The decor is modern, clean and minimal. The outdoor patio is cosy and inviting; inside, blonde-wood accents and exposed beams surround an oval-shaped marble-topped bar that offers patrons more focused one-to-one service.
Contact