26
La Grande Table Marocaine
Marrakech, Morocco
The Best Restaurant in Morocco 2022
A magic carpet ride for serious gourmands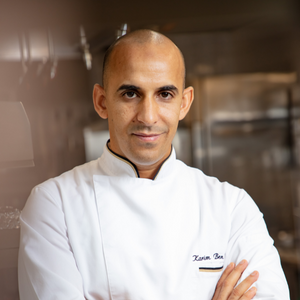 On the Pass
Karim Ben Baba
Why so grand? Before the Royal Mansour, Moroccan fine dining rarely stretched beyond much-loved but ubiquitous fare – the same cooked salads, tagines and couscous you'd find anywhere, albeit in a spectacularly lavish setting. Then, Yannick Alléno took the helm as executive chef at La Grande Table Marocaine, and together with head chef Karim Ben Baba and his team, blew Moroccan food as we know it out of the water.
What's the inspiration? Since opening the restaurant in 2008, Alléno has spent part of the year scouring the country in search of historic courtly cuisine and traditional home cooking to devise a menu that showcases both the country's culinary heritage and its future. Combining the finesse of French cooking with the daring of a visionary, in his hands those traditional dishes become even more extraordinary. Boldly exotic plates of food that conjure all the magic of Arabian nights, with none of the cliché. Rather, his inventions speak authentically of both time and place.
Typical dishes: Picture the chef's riff on a typical Moroccan egg dish, mostly cooked in private homes, reimagined as trid soufflé with free range chicken, fresh broad beans and Khémisset lentils. Or seffa medfouna – traditionally a sweetish, celebratory dish of broken vermicelli with chicken – reimagined with lobster, saffron-scented onions, raisins and ginger. Or succulent lamb ras m'fouar with cumin and Imouzzer truffles. Nobody does it better.
The overall experience? A sumptuous gastronomic adventure that takes you from the Mediterranean coast to the sands of the desert, across the Atlas Mountains and deep into the heart of Morocco, with service and surrounds that will make you feel like a king.
Contact