29
Amazonico
Dubai, UAE
Hip restaurant and bar in the heart of the financial district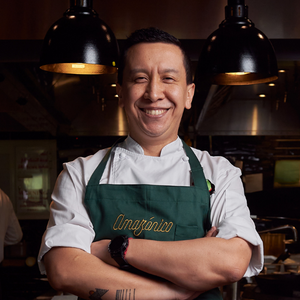 On the Pass
Diego Fernando Sanchez Vargas
Welcome to the jungle: A Latin American restaurant that's sprawled over three floors and includes a dining area, a bar and lounge, a sushi area and a rooftop, Amazonico is designed to make you feel like you're smack in the middle of a rainforest. With vibrant greens and bright colours, the setting is enough to energise diners for the meal ahead.
Design dream: The restaurant went through a massive redesign in 2021, with the project helmed by Spanish interior designer Lázaro Rosa-Violan – who is also responsible for the design of the original restaurant in Madrid. It's a tropical fantasy with Amazonian butterflies everywhere you turn. One of the centrepieces is the new 10-metre-long cocktail bar on the ground floor, while a 250kg-heavy chandelier that houses a variety of exotic plants hangs from the top of the restaurant's staircase.
What's on the menu? There's a sushi menu that will delight the senses, but diners can also find unexpected dishes (think fried frog legs with a spicy mango dressing and sea urchins with guacamole and plantain chips) along with crowd-pleasers, such as 16-hour slow cooked short ribs, Patagonian hake and more.
Something for everyone: With business lunch catering to the financial district area it's situated in, Amazonico always tried to offer a fun vibe. With relaxed yet good service, the hip setting and inventive food makes it a buzzing place to be.
Contact