34
Coya Abu Dhabi
Abu Dhabi, UAE
Elevated restaurant serving plates with Latin American panache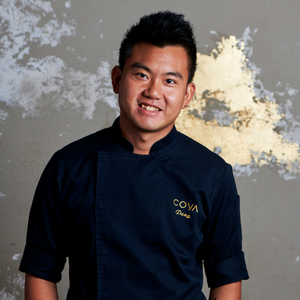 On the Pass
Pang Longchin
Pastry Chef
Jeremiah Gichia
What's it all about? Peruvian paradise is the order of the day. Inspired by the sumptuous offerings of Incan cuisine, chef Pang Longchin serves up contemporary dishes from Latin America, entwined by Japanese and Chinese techniques and flavours. Coya is home to a specialised pisco bar – a type of Peruvian brandy made from distilled and fermented grapes – and its food and drinks transport diners halfway around the world.
A room with a view: From its high perch in the Four Seasons Hotel on Al Maryah Island, Coya Abu Dhabi gives diners a spectacular view of the seafront. The terrace and floor-to-ceiling windows allow the sunset to stream in while guests enjoy a refreshing tipple or a romantic evening meal.
On the menu: Signature dishes include the likes of grilled lobster with bomba rice, amarillo chilli, saffron aioli and Oscietra caviar; or the sea urchin brioche with pickled limo. On Saturday afternoon, Coya hosts one of the most luxurious brunches in Abu Dhabi. ­­­­With a selection of appetisers to choose from, including edamame or maki rolls, followed by slow cooked beef ribs or Chilean sea bass rice, it's an unmissable dining experience.
Who's cooking? At the helm in the kitchen is Malaysian-born chef Pang. Having grown up around food in his family's small restaurant, enrolling in culinary school in Singapore was a natural fit for him. After helping to organise a pop-up restaurant for Coya in 2017, Pang was invited to open a branch of the restaurant in Abu Dhabi. The rest is history.
Contact