44
Hoseki
Dubai, UAE
Traditional Japanese fine-dining for purists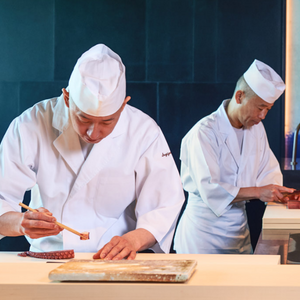 On the Pass
Masahiro Sugiyama
Tokyo calling: This is the closest you're going to get to taking a seat at one of Japan's finest restaurants. Chef Masahiro Sugiyama, a sixth generation sushi master, serves up a set omakase – or chef's choice – menu, picking the freshest ingredients that are imported direct from his home country, which ensures no two sessions are ever alike.
An intimate experience: There are only nine seats and every one of them, perched along a smooth wooden counter, gives you a ring-side view of the knife skills and culinary artistry at work with a window framing the Dubai skyline as a striking backdrop. The space is pared back yet oozes expense, as is befitting given its location on the fourth floor of the sophisticated Bvlgari Hotel Dubai.
Fishing for compliments: From sea urchin to octopus tentacles and fatty tuna, depending on the menu you've picked and any preferences you express, you'll be treated to a series of bite-sized courses, appetizers, sushi and miso soup, finishing off with a traditional omelette.
An aptly named gem: Literally translated as gemstone, those looking for genuine authenticity will find their every requirement ticked – at a price. This multi-course feast starts at AED700 for lunch, while dinner starts at AED1,500. But given this will count as a bucket list experience, we suggest you push the boat out and opt for the most extravagant AED2,000 offering.
Contact