21
Liza
Beirut, Lebanon
Levantine hospitality in a beautiful 19th-century palace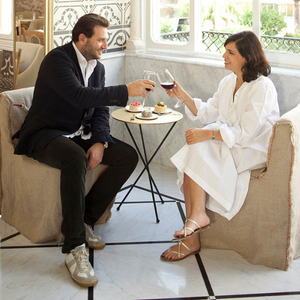 The setting: Housed in a spectacular, refurbished 19th-century palace in the heart of the Achrafieh neighbourhood in eastern Beirut, Liza is known as one of the most beautiful restaurants in the world. The stylish space, which was designed by Lebanese interior designer Maria Ousseimi, mixes elegant contemporary design aesthetics with old Beirut charm. Dine in one of four beautifully decorated themed rooms complete with playful walls, white marble and ottoman-style wooden arches.
The food: Liza's kitchen dishes out classic Lebanese fare with a modern spin. The food is simple yet just as stunning as the setting. The menu includes a selection of classic hot and cold mezzes, plus heartier options. Standout dishes include Kharoof Bi Khams Bharat, five-spice lamb confit accompanied by rice studded with pistachios; Djej Bil Freke, citrus and thyme chicken served with smoked green wheat; and Mante, Armenian dumplings with tomato sauce and yoghurt.
The owners: Ziad and Liza Asseily, the husband-and-wife team behind Liza, started their first culinary venture in 2005 when they created Liza Paris. Their goal was to capture, recreate and share the beautiful nostalgia of Beirut and its culinary culture.
Other ventures: In addition to Liza Paris and Liza Beirut, the couple's projects include a cookbook and Boulangerie L de Liza, a bakery and sandwich shop that serves healthy Lebanese street food in Paris.
Contact