23
Lowe
Dubai, UAE
Sustainable Restaurant Award 2022
A homegrown masterclass in simplicity and creativity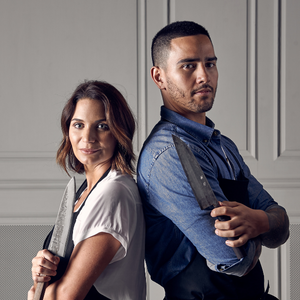 On the Pass
Jesse Blake and Kate Christou
Off-piste: Tucked away in the clubhouse of a leafy residential development, Lowe is an unassuming space that packs a culinary punch. The contemporary space is echoed in the collection of experimental, ingredient-driven dishes on the menu that are cooked simply, over fire.
Local hangout: Though it's definitely worth the 30-minute drive from Dubai's Downtown district, Lowe is the epitome of a neighbourhood restaurant servicing the surrounding community of Koa Canvas club members and Al Barari residents.
Less is more: The interiors are clad in wood and unfinished concrete, allowing the open plan kitchen that occupies the entire width of the restaurant to pull focus. With minimal distractions, guests are treated to a show of quiet culinary theatrics. There's no mistaking the fact that it's all about the food.
Winning start: Usually an afterthought, Lowe has become known as one of the best breakfast spots in the city, by applying the same no-rules, arguably rogue approach that it does with the main menu. Don't miss the salt beef fried rice with eggs, peanuts, greens and nuoc cham or the baked broken eggs in curried onion gravy with yoghurt, cashews and butter roti.
Contact