42
LPM Riyadh
Riyadh, Saudi Arabia
French-Mediterranean cuisine in the heart of Riyadh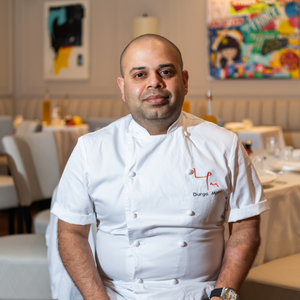 A Mayfair culinary affair: While a newcomer to the Saudi capital, LPM has become a name associated with exquisite southern France-inspired cooking since 2007. Its arrival excited local patrons, familiar with its London and Dubai addresses. Now housed in the iconic Mandarin Oriental AlFaisaliah Hotel, LPM has a guest list that matches its siblings, while carving its own identity as a fine dining experience that can very well hold on its own.
Sunkissed creations: Come for the name, stay for the food and linger for the vibrant atmosphere that transports you to the French riviera. The Mediterranean influence here is palpable, with burrata, grilled aubergine, risotto, gratin and gnocchi satisfying patrons. It's all about simple, fresh, quality ingredients, crafted well. The menu does not hold back with French specialties either, being one of the few spots in town to indulge in some escargot and foie gras.
Who's in the kitchen? Seasoned chef Durga Misra, whose mastery of French cuisine has earned him a Michelin star in his previous endeavours. Prior to joining LPM Riyadh in 2020, he was the chef-owner of Bistro Vadouvan in London.
Stop and admire the art: Lining the walls of LPM is a collection of 20th-century paintings by French Mediterranean artists. The bright hues contrast with and punctuate the space, adding to its joie de vivre atmosphere.
Contact